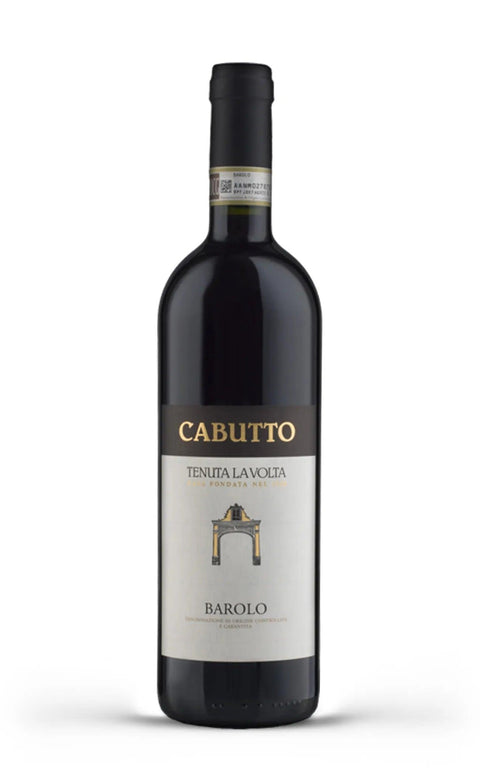 Barolo Tenuta la Volta DOCG 2017 - Cabutto
Elegant Complex Noble
What do we mean by these definitions? Click HERE to find out!
Elegance and strength: Cabutto's Barolo Tenuta la Volta. This wine is like a warm, enveloping hug, with a full body that cradles you in an unforgettable sensory experience. Its long maceration and nearly three years of aging make it a wine of extraordinary complexity. The color is an intense garnet red that captures the eye like a fiery sunset. On the nose, a complex and enveloping bouquet of dried roses and violets invites you to immerse yourself in a world of olfactory pleasure. This wine is the perfect accompaniment for a romantic candlelit dinner with red meat dishes or aged cheeses.
Denomination: Barolo DOCG
Vintage: 2017
Dosage: Dry
Grape variety: Nebbiolo
Region: Piedmont (IT), Barolo (CN)
Refinement: Slavonian oak barrels
Serving temperature: 16/18°C
Alcohol content: 14.5% vol.
The historic Cantina Cabutto is located in the Tenuta la Volta in the Municipality of Barolo and extends over 20 hectares of vineyards. The Cabutto family strongly believes in the identity of the Barolo tradition without neglecting innovation in the winemaking technique. After years of aging in large Slavonian barrels, the wines obtained are elegant, with great structure, excellent to drink young but also suitable for aging in the bottle.