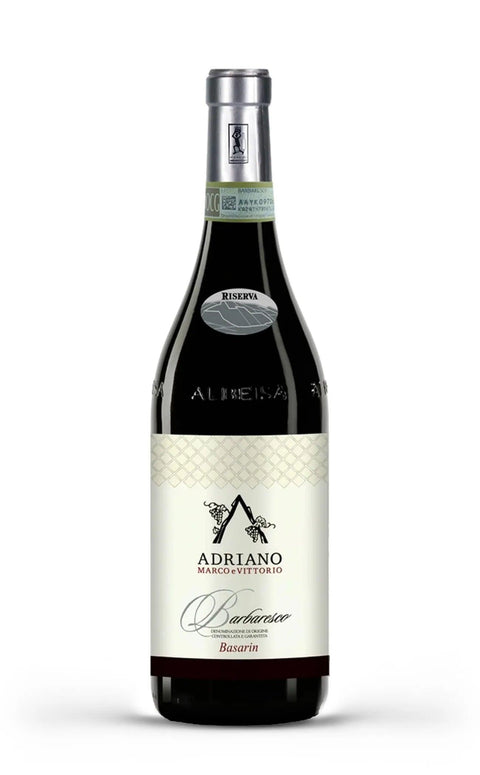 Barbaresco Riserva Basarin DOCG 2016 - Adriano Marco e Vittorio
Complex Noble Elegant
What do we mean by these definitions? Click HERE to find out!
Immerse yourself in the timeless allure of Barbaresco Riserva Basarin DOCG, a masterful creation by Adriano Marco and Vittorio. This red wine is an ode to the tradition and excellence of Piedmont, born from carefully selected Nebbiolo grapes from the renowned Basarin cru. At first glance, the wine presents itself with an intense garnet red color that tends towards orange as it ages. The aroma is an evocative bouquet of violet and dog rose, enriched by nuances of spices, licorice, and jam. On the palate, the wine is a symphony of flavors, with a full-bodied and complex structure, unveiling itself in a long and persistent finish. Ideal for pairings with red meats, aged cheeses, and Piedmontese cuisine. Allow yourself to be seduced by its elegance and complexity, a true gem of Italian viticulture
Denomination: Barbaresco DOCG
Vintage: 2016
Dosage: Dry
Grape variety: Nebbiolo
Region: Piedmont (IT), San Rocco Seno d'Elvio (CN)
Refinement: Oak barrels
Serving temperature: 16/18°C
Alcohol content: 15% vol.
The Adriano winery is a historic family-run farm located in the Seno d'Elvio valley, in the province of Alba, in Piedmont. Founded in the early 1900s as sharecropping, the Adriano family gradually acquired land until it now owns 30 hectares of vineyards divided into Mottura, Avoglieri Argantino and Basarin. Their attention to nature and biodiversity has led them to surround their vineyards with woods and hazelnut groves, thus creating a microclimatic force for the grapes. The Adrianos cultivate their grapes without the use of herbicides, in an ideal environment where the soils are rich in blue marl and the slopes are marked, to guarantee the maximum quality of the grapes. The Adriano winery stands out for its traditional winemaking style, which involves rigorous aging of their Barbaresco red wines primarily in unroasted Slavonian oak barrels to enhance and distinguish the terroirs of the wines. The Adriano family represents the identity of the people of Langa, with the continuity, dedication and low profile that characterize them. Their cellar is located in a secluded and less noble corner of the Langa, where you can breathe the purest and most popular air of Piedmont. The company's future looks promising, thanks to the fertile and dynamic growth potential and the family's passion for the vineyard. The Adriano farm is a classic example of a family-run farm that represents a true tradition in Piedmont.