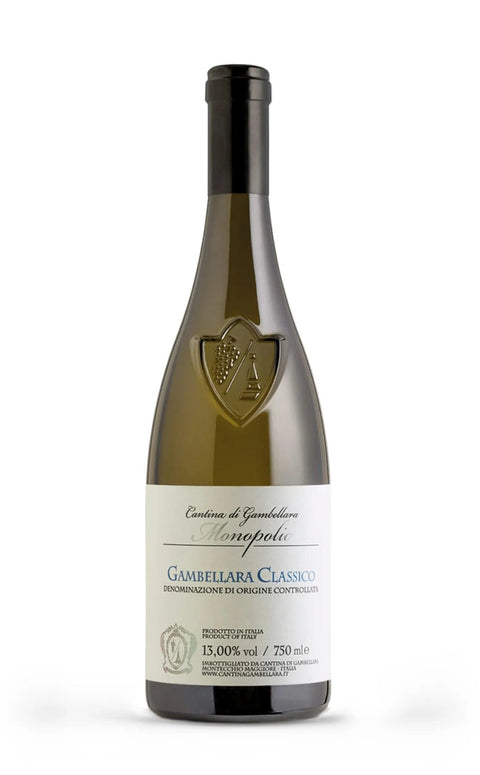 Gambellara Classico Monopolio DOC 2021 - Cantina di Gambellara
Complex Noble Mineral
What do we mean by these definitions? Click HERE to find out!
Imagine a golden sunset reflecting on the hills of Gambellara, a landscape that seems almost painted by an artist. This is where the Gambellara Classico Monopolio DOC is born, a wine that captures the essence of this enchanting place. Made from 100% Garganega grapes grown on volcanic soil, this wine is an olfactory and gustatory portrait of a unique territory. At the first sip, you are greeted by a bouquet of yellow peach and apple, like a summer caress. The pronounced minerality guides you through a sensory journey, culminating in a spicy finish that leaves you wanting another sip. Ideal for pairing with seafood dishes or an evening among friends, it's a wine that speaks the language of its land, a language that invites you to discover more.
Denomination: Classic Gambellara DOC
Vintage: 2021
Dosage: Dry
Grape variety: Garganega
Region: Veneto (IT), Montecchio Maggiore (VI)
Refinement: Steel
Serving temperature: 8/10°C
Alcohol content: 13% vol.
Cantina di Gambellara, located in Gambellara in the province of Vicenza, is a historic wine cooperative founded in 1947 by a group of 26 associated vine growers. This winery became the first cooperative winery in the Vicenza province. The winery specializes in the production of DOC wines such as Soave, Gambellara, and Lessini Durello. This area enjoys volcanic and morainic soils particularly suited to the cultivation of vines given the temperate climate and sunny exposure. Thanks to advanced and modern winemaking techniques, the cellar is able to produce genuine and quality wines that fully reflect its territory.