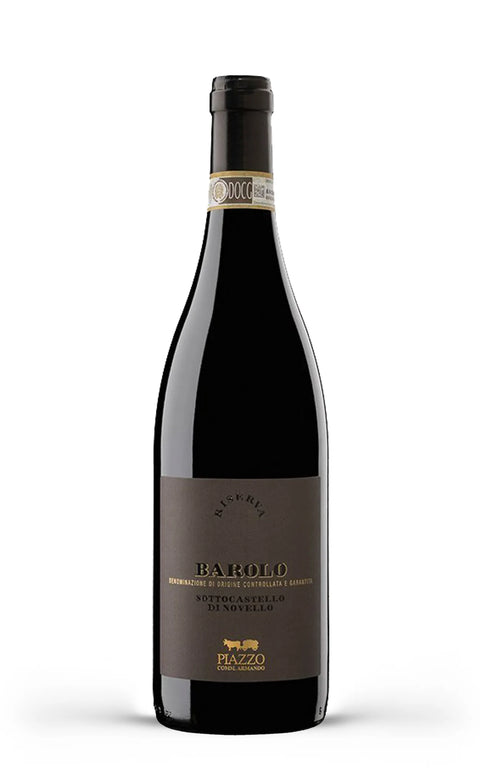 Barolo Sottocastello di Novello Riserva DOCG 2015 - Piazzo
Refined Full-bodied Noble
What do we mean by these definitions? Click HERE to find out!
Piazzo's Barolo Sottocastello di Novello Riserva DOCG is a wine that embodies the nobility and complexity of Piedmont of this Cru in a Reserve key. Produced from Nebbiolo grapes, this wine is a sensory journey that begins with spicy tertiary aromas, mixed with floral hints of violet and ripe red fruit. On the palate, it is full, with notes of cherry, blueberry and spices, enriched by nuances of tobacco and liquorice. The tannins are soft but well balanced, giving the wine a solid structure and remarkable aging potential. This Barolo is a meditation wine, ideal to be enjoyed in moments of reflection or during elegant dinners. It pairs beautifully with red meat dishes and mature cheeses.
Denomination: Barolo Sottocastello di Novello Riserva DOCG
Vintage: 2015
Dosage: Dry
Grape variety: Nebbiolo
Region: Piedmont (IT), Alba (CN)
Refinement: Barriques
Serving temperature: 16/18°C
Alcohol content: 14.5% vol.
The Piazzo Comm. Armando winery was founded in the 1960s by Armando Piazzo and Gemma Veglia in San Rocco Seno d'Elvio, a hamlet in the municipality of Alba. To date, the company can count on 70 hectares of vineyards in the municipalities of Mango, Neviglie, Guarene and Novello. The winemaking philosophy respects tradition especially for the production of Barolo and Barbaresco but with particular attention to cleanliness and innovation. In the cellar, the effort is at its maximum to make the most of the raw material, fruit of the sacrifices and work carried out in the vineyard. The wines produced are the soul of the territory, they stand out for their perfumed bouquets on the nose, with great body and structure but balanced and elegant on the palate.