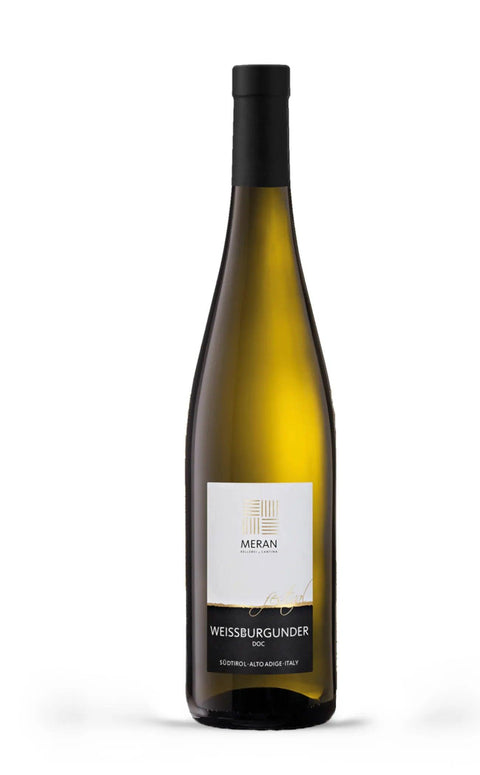 Weissburgunder Alto Adige DOC Festival 2022 - Meran
Complex Noble Mineral
What do we mean by these definitions? Click HERE to find out!
Like a painter capturing the golden light of sunset on a pristine canvas, the Weissburgunder Alto Adige DOC Festival - Meran is a liquid masterpiece that encapsulates the essence of the Italian Alps. Produced sustainably by the renowned Cantina Merano, this white wine is a tribute to the land it comes from. Its visual appearance is a bright straw yellow, inviting you to discover its olfactory and taste profiles. On the nose, you'll pick up notes of white-fleshed fruit, particularly apple, harmoniously blending with a subtle mineral undertone. In the mouth, freshness takes center stage, thanks to its steel aging that preserves its liveliness. As for pairings, imagine a summer lunch on the terrace with fresh salads or grilled fish.
Denomination: Alto Adige DOC
Vintage: 2022
Dosage: Dry
Grape variety: Pinot Blanc
Region: Trentino Alto Adige (IT), Merano (BZ)
Refinement: Steel
Serving temperature: 8/10°C
Alcohol content: 12.5% ​​vol.
This cooperative, which was founded in 1901 with a few winegrowers, evolved in 2010 through the merger of two wineries: the Burggräfler winery and the Merano winery. Today it has over 360 members who support the renovation and expansion of the cellar. The objectives have always been: the production of high quality wines, which remain faithful to their roots, the care of the vineyards, the origin of the grapes and transparency. The passion of the winemakers for their work is the secret of their wines. The winery is located in a geographically advantageous area between the mountains and the lower Val Venosta, where a vast variety of grape varieties thrive and incredibly varied and exciting wines are produced. The members are located in two decidedly different wine areas: Merano and Val Venosta. The Merano area offers a sunny, fertile and mild hilly landscape with a Mediterranean charm, while the Val Venosta is characterized by an alpine climate, often extreme, with strong temperature variations between day and night and exceptionally steep vineyards with arid soils that reach 900 meters of height. The location, the land and the climatic conditions are examined with wisdom and scrupulousness in order to identify the optimal position for each individual vine. This is how an incredibly varied and exciting repertoire of wines is born thanks to the application of the most modern technologies together with the passion of hundreds of families who make quality their absolute priority every year.