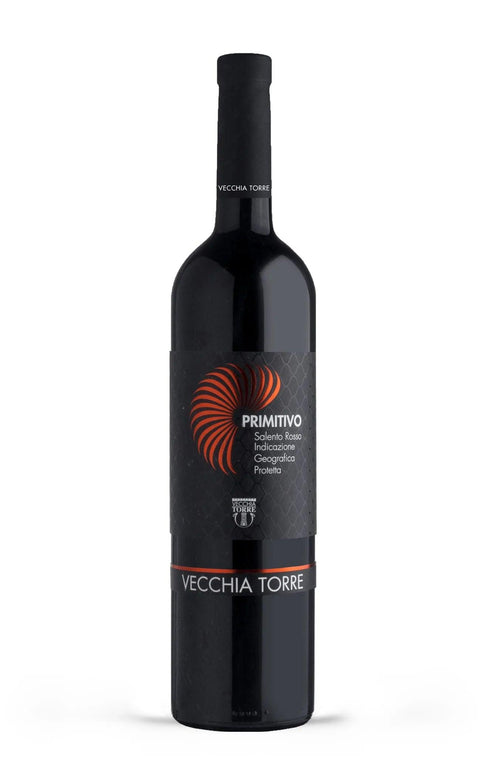 Primitivo Salento IGP 2018 - Vecchia Torre
Elegant Soft Fruity
What do we mean by these definitions? Click HERE to find out!
The Primitivo Vecchia Torre is a wine that embodies the passion and tradition of Apulian viticulture. Originating from some municipalities in the province of Lecce, this wine is made entirely from Primitivo grapes, a varietal that finds its ideal habitat in Puglia.
The harvest takes place in a period that varies based on climatic conditions, followed by meticulous fermentation in stainless steel tanks. The subsequent aging occurs in various types of containers, which include both steel and wood, depending on the production philosophy of the winery.
Visually, the wine presents itself with an intense, almost impenetrable red color, which foreshadows an equally rich aromatic bouquet. On the nose, the Primitivo Vecchia Torre offers a complex and enveloping olfactory profile, with notes of ripe red fruits, spices, and hints of tobacco and vanilla. On the palate, the structure is powerful yet balanced, with soft tannins that integrate well with a pleasant acidity and highlighted minerality.
This wine is remarkable for its well-constructed structure and the balance between aromatic and taste components. It is a wine that can be appreciated both in the short term and over the long term, thanks to its ability to evolve and mature over time. It pairs splendidly with robust and flavorful dishes, such as grilled red meats, game, and aged cheeses.
Denomination: Salento Rosso DOP
Vintage: 2018
Dosage: Dry
Grape variety: Primitivo
Region: Puglia (IT), Leverano (LE)
Aging: Barriques
Serving temperature: 16/18°C
Alcohol content: 14% vol.
Cantina Vecchia Torre is one of the leading companies in the Apulian wine scene, it was founded in 1959 and today it can count on 1500 hectares of vineyards contributed by 1100 members.
It all starts with a careful selection of the grapes brought to the cellar and thanks to modern winemaking and aging techniques, a genuine local wine is obtained, born from the profound respect for traditions and the passion of the people who work to obtain the highest quality possible.