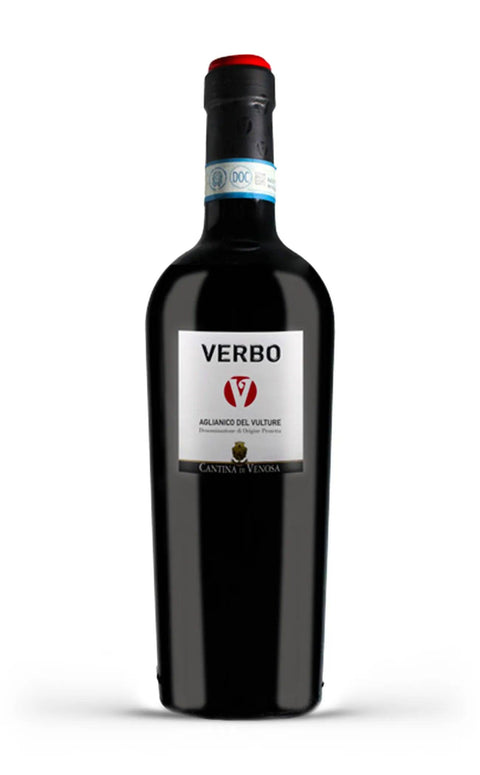 Aglianico del Vulture DOP Verbo 2020 - Cantina di Venosa
Soft Elegant Fruity
What do we mean by these definitions? Click HERE to find out!
The Aglianico del Vulture DOP Verbo from Cantina di Venosa is a wine that tells the story and tradition of Basilicata. Made from 100% Aglianico grapes, this wine is an emblem of the region's quality viticulture. The vines, aged between 10 and 20 years, grow on volcanic soils that give the wine unique structure and complexity.
At sight, Verbo presents itself with an intense ruby red color. On the nose, it offers a rich olfactory bouquet of ripe red fruits, spices, and a light touch of vanilla, thanks to its aging in wood. On the palate, it is a medium-to-full-bodied wine, with well-balanced tannins and an aromatic persistence that leaves a lingering taste of cherry and black pepper. Ideal for pairing with red meats, aged cheeses, and traditional Lucanian dishes, Verbo is the perfect wine for an elegant dinner or an evening among friends.
Denomination: Aglianico del Vulture DOP
Vintage: 2020
Dosage: Dry
Grape variety: Aglianico
Region: Basilicata (IT), Venosa (PZ)
Aging: Oak and steel barrels
Serving temperature: 16/18°C
Alcohol content: 14% vol.
Cantina di Venosa is one of the most renowned companies in the South. Established in 1957, today there are 350 contributing members for an area of ​​approximately 800 hectares of vineyards. The winery, located in Venosa, a city north of Basilicata, establishes itself as the largest producer of Aglianico in the Vulture area. From this particular volcanic soil and thanks to the fortunate exposure of the Venosa hills, an Aglianico is born with an intense ruby ​​red color with garnet reflections, fruity and ripe bouquets and the savory and harmonious unmistakable flavor of Vulture.