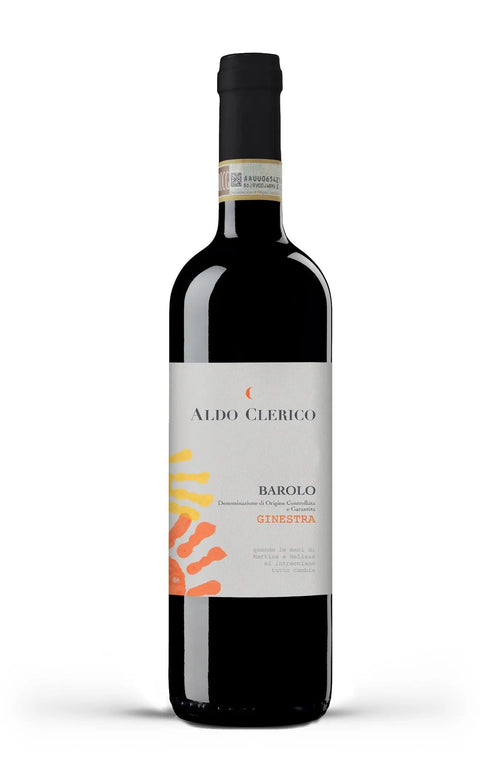 Barolo Ginestra DOCG 2017 - Aldo Clerico
Elegant Complex Noble
What do we mean by these definitions? Click HERE to find out!
Immerse yourself in Aldo Clerico's Barolo Ginestra DOCG 2017, a wine that is an ode to the land of Piedmont. Produced in the heart of Monforte d'Alba, this wine is an olfactory and gustatory portrait of the territory. Made from 100% Nebbiolo grapes from "Ginestra" Cru, the wine undergoes a period of aging in oak barrels, giving it extraordinary complexity. Visually, the wine is a deep ruby, almost as if capturing the essence of a Piedmontese sunset. On the nose, it unveils a bouquet of ripe red fruits, spices, and earthy notes—an intricate labyrinth of aromas inviting you to lose yourself. On the palate, it's an explosion of flavors: cherry, raspberry, and a touch of leather and tobacco. The structure is solid, a wine with a generous body that promises significant aging potential. For a complete culinary experience, pair it with hearty dishes like braised meats and roasts, or enjoy a moment of contemplation with a good book.
Denomination: Barolo Ginestra DOCG
Vintage: 2017
Dosage: Dry
Grape variety: Nebbiolo
Region: Piedmont (IT), Monforte d'Alba (CN)
Refinement: Oak barrels
Serving temperature: 16/18°C
Alcohol content: 15% vol.
The Aldo Clerico winery is located in Monforte d'Alba in the heart of Barolo. It was born in 2004 when Aldo Clerico decided to make use of his experience, gained after years of work in the most prestigious wineries of Monforte, by opening his own farm. The hectares owned are 6, mostly located in Monforte d'Alba and a smaller part in Monchiero. The careful management of the vineyard together with the modern winemaking techniques adopted in the cellar give life to fine and quality wines, with an out of the ordinary elegance.