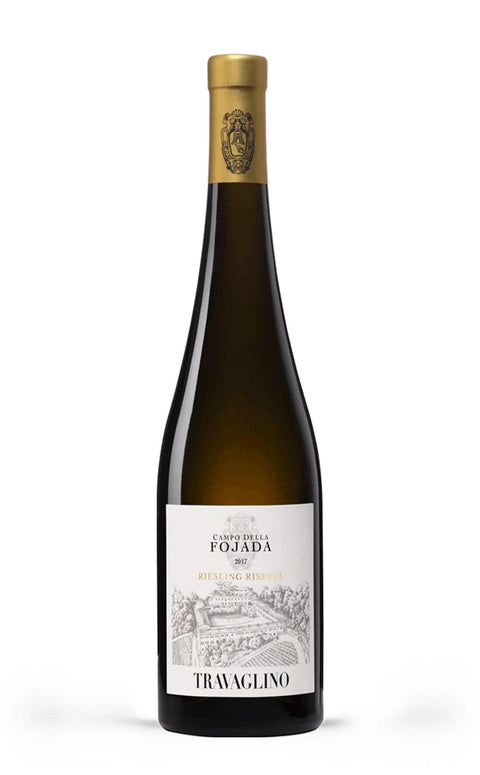 Riesling Renano Oltrepò Pavese Riserva Campo della Fojada DOC 2016 Magnum - Travaglino
Savory Refined Complex
What do we mean by these definitions? Click HERE to find out!
The Riesling Renano Oltrepò Pavese Riserva Campo della Fojada DOC by Travaglino embodies the history and tradition of one of the oldest winemaking companies in Oltrepò Pavese. Made with Rhine Riesling grapes, this wine hails from the Lombardy region, specifically from Calvignano (PV). The refinement takes place in steel, preserving the wine's freshness and vivacity. On the palate, it stands out for its complexity, nobility, and savoriness, making it a wine that can be enjoyed on various occasions. Ideal for pairing with fish dishes or light appetizers, this wine is also an excellent choice for moments of relaxation and meditation. With vegan-friendly production, it represents a sustainable option for wine lovers.
Denomination: Oltrepo' Pavese Riserva DOC
Vintage: 2016
Dosage: Dry
Grape variety: Rhine Riesling
Region: Lombardy (IT), Calvignano (PV)
Refinement: Steel
Serving temperature: 8/10°C
Alcohol content: 13% vol.
Tenuta Travaglino is one of the most historic companies in Oltrepo' Pavese which has its origins in the Middle Ages and can currently count up to 80 hectares of cultivated vineyards on the 300 hectares of property. Tradition and history are the watchwords of the Comi family which for five generations in Calvignano has been trying to bring Pinot Noir and Riesling, heritage of Oltrepo' Pavese, to the highest levels.